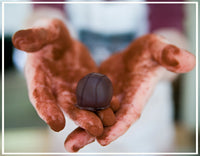 Straight Up Vermont
We live to make chocolates that are simple, but sublime; that bring joy; that are made with the highest quality local and organic ingredients. We're not in it to get rich, we're in it for the love of honest to goodness, blow your mind, make your day, lift your spirits, chocolates.
Our Chocolates
Featured Collections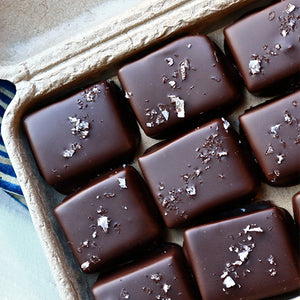 Chocolate Covered Salted Caramels
Our old world, hand dipped, small batch caramels are available in 4 piece and 9 piece boxes. A confection of smooth toasted butter richness, balanced with a touch of salt, you may not want to share.
Shop Caramels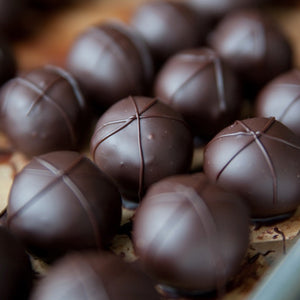 Dark Chocolate Truffles
Our hand crafted 6 and 12 piece truffle boxes contain truffles of two different flavors. With these flavor choices, you can't go wrong - This is a labor of love!
Shop Truffles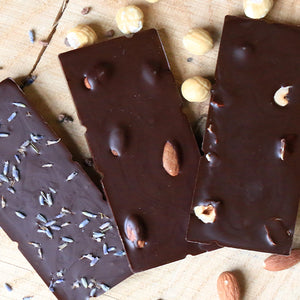 Dark Chocolate Bars
Our chocolate is made from certified organic, fair trade cocoa beans grown around the world. Our selection of 70% - 85% chocolates with varying flavors will keep you coming back for more!
Shop Chocolate Bars
We're Eliza and Erlé
Growing up in rural Vermont without electricity, working on his grandfather's dairy farm after school, Erlé was far more concerned with lunchtime than recess. At home, he made clandestine trips to the refrigerator to nibble on whole sticks of butter, his whip-thin frame corroborating his supposed innocence when confronted.
Eliza came to Vermont in 2010, after working in Florence, Italy's specialty food market, Il Mercato Centrale, and leading food and wine tours in Italy. Eliza has worked on vineyards in Italy, France, and Vermont.
Since we met, we've been hand making chocolates, a business, and a life together.
Learn More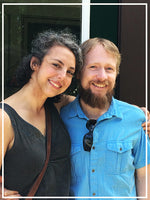 Testimonials
These chocolates are awesome! The packaging is amazing and thoughtful, the chocolates are designated certain flavors by certain patterns of chocolate drizzle, and Eliza even packaged it in a way that my wife couldn't tell what was in it (huge plus around the Christmas holiday).

Brad Chittenden, Texas
I purchased three boxes of these chocolates to share with family on Valentine's Day; they arrived
quickly, were packaged sustainably and beautifully, and tasted delicious. The flavors were amazing, and everyone loved them! I will definitely be back to buy more!

Sophia Yargo, Ohio
Just received my order of chocolate caramels and wanted to say how impressed I am with the speed of service and with how well and cutely packaged they were. It's delightful that everything is recyclable and biodegradable.

Monica Burke, New Hampshire
Wholesale Inquiries
Are you a retailer?
We'd love to work with you! Through our partnership with Faire, we're able to offer our most competitive rates on a secure & convenient platform. We can also work directly with you, so feel free to get in touch if you have any questions!